Discover Why Over 250,000 People Trust The USCCA
If you're ever forced to fight back against a violent attacker, defending yourself and your family could lead to legal repercussions. It may sound hard to believe, but it happens to good guys every day.
Acts of self-defense can lead to civil lawsuits, criminal charges, and jail time-even if you did the right thing. And doing the right thing shouldn't cost you everything. Don't allow yourself to be made a victim by settling for a public defender or draining your life savings to fund your most basic human rights— your safety and your freedom. Get the protection you and your family deserve…
Your USCCA membership will instantly transform you into a completely prepared and confident protector by arming you with life-saving tools, emergency resources, and most importantly, your legal protection-backed Self-Defense SHIELD benefits.
After you've been forced to defend yourself and your family from a dangerous thug or violent home invader, you'll be forced to defend your actions again… in court! Don't go it alone. Add a USCCA membership to your arsenal to guarantee you'll have the legal defense and deep pockets you need to prevail…
Every Level Of USCCA Membership Is Complete With These Benefits And Resources You Won't Find Anywhere Else…
Civil Suit Defense and Damages Protection

to help insulate you from and defend against a civil lawsuit that could threaten all you've ever worked for.

Criminal Defense Protection & Up-Front Attorney Retainer

to assist getting your criminal defense underway.

24/7/365 Access To Your USCCA Critical Response Team

in the event of an emergency. No waiting on hold with the in legal protection company. You'll be in direct contact with a highly trained individual who will assist with coordinating all of your benefits.

Use Of Any Legal Weapon Of Opportunity

covered in acts of self-defense (handguns, rifles, knives, pepper spray, fists, or even a frying pan.)

100% Up-Front Coverage

if you're ever involved in a self-defense incident. Your Critical Response Team will take any financial burdens off your shoulders.

No Annual Limits on your benefits, which means if you're forced to act in self-defense again months, weeks or even days within a prior SDS Incident, your Self-Defense SHIELD protection will be available to you in full.
Members-Only Deals & Discounts

so you can be the first to get your hands on newly released products from the USCCA as well as savings from our favorite industry partners.

Concealed Carry Magazine

complete subscription is included with your membership, along with digital access to over 13+ years of back-issues.

Up-Front Bail Bond Funding

to provide expedited protection to get you out of jail and back home with your family where you can plan an effective defense.

Incidental Expense Coverage

to assist you with firearm replacement, damaged property repair, site clean-up or other unexpected costs that come along with the aftermath of a self-defense incident.

Local Attorney Coordination

with your preferred attorney, or if you haven't selected an attorney, you'll be given access to the growing USCCA Attorney Network list.

Wage Compensation While In Civil Court

to help cover any time you may spend defending yourself.
CLICK HERE to learn more and purchase the protection that is right for you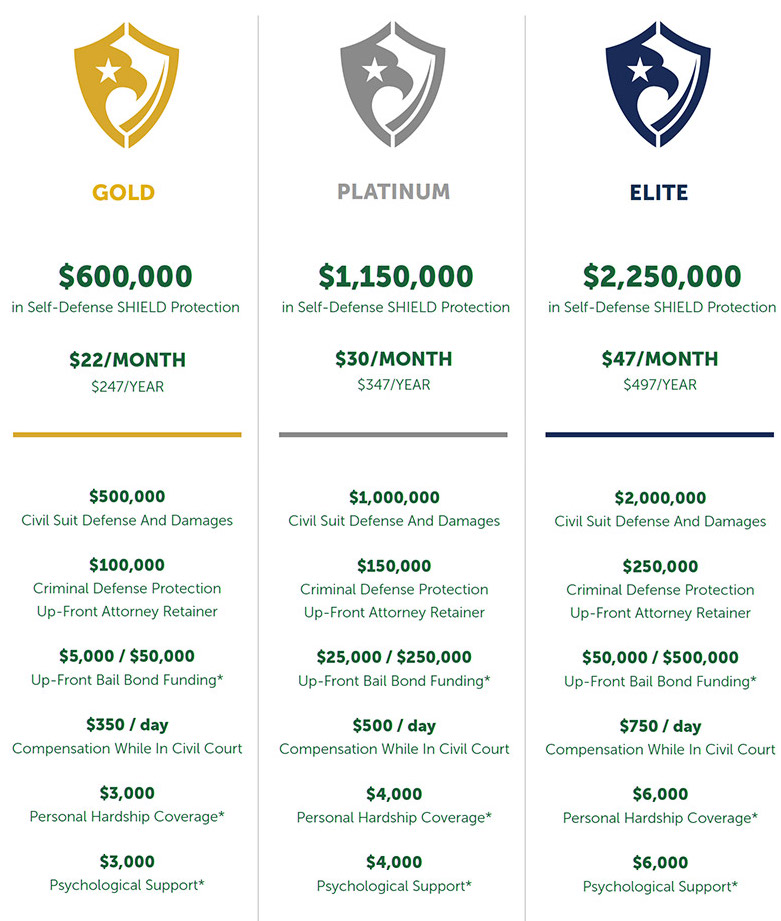 Are you protected? USCCA Member Brad Ensign never thought that doing the right thing could cost him everything. Watch the video about his stunning story and get more information and sign up HERE.